I made these yoyos last week for Valentines Day for my other half. We usually never do much for Valentines Day, (happy corporate endorsed, love themed, merchandising day anyone?!) preferring to have spontaneous little treats all year long. But this year I couldn't resist, and made these little cookies which went down a treat.
I toyed with the idea of shortbread hearts, but wanting to lay off the cheese I decided to make yoyos instead. With pale pink butter-cream filling, they were quite simple but weren't too twee.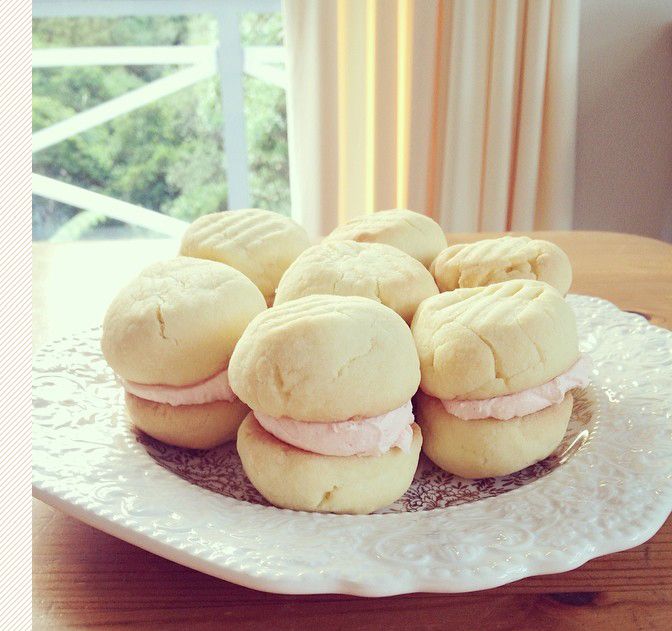 Here is the recipe for you:
Edmonds Yoyos
From the Edmonds Cookbook
For the cookie
175 g butter, softened
1/4 cup icing sugar
1/2 teaspoon vanilla essence
1 1/2 cups high grade flour
1/2 cup custard powder
For the filling
50 g butter, softened
1/2 cup icing sugar
2 tablespoons custard powder
Instructions
Preheat oven to 180C or 350°F.

For the cookie, cream butter and sugar until light and fluffy and add vanilla essence.

Sift the flour and custard powder and mix sifted ingredients into butter mix.

Roll small teaspoons of dough into balls and place on greased tray. Flatten balls slightly with a fork.

Bake in the oven for 15-20 minutes. Remove from the oven and allow to cool.

For the filling, beat all filling ingredients together until combined.
To assemble, sandwich two cookies together with a little butter filling and serve.
Note:
I added a drop of red food colouring to the butter-cream icing for a touch of Valentines whimsy, and probably would do again if it wasn't V Day, so much cuter!