Headboards always seem to add in that little bit of luxury to a bedroom, and definitely seem to finish off the bed space. I'm one who loves to collapse on a big comfy bed at the end of the day, and so a headboard was on the 'would like to have' list for a long, long time.
With fancy upholstered headboards going for upwards of $600 around here, I decided to take it in my own hands and tackle it one weekend.
With just a trip to Bunnings and Pete's Emporium (the most amazing craft/bits and bobs/everything shop ever), I had made this:
What I used..
MDF board cut to size (we measured ours out for the width of a queen bed, and enough for the headboard to go below the pillows  – approx 1600mm x 600mm)
Staple gun and staples
Foam batting (lots and lots of this!)
Nail-head trim (you can order this from Amazon, but I got mine from an upholsterer
Material to cover your headboard (I actually used a matching single sheet from our duvet cover designwhich is why it matches so perfectly.. I even had enough fabric left to make my own cushions!)
And what I did..
Firstly, I cut out the top corners off the MDF as I wanted a curved shape to give the headboard a bit of pizazz. There are so many shapes out there for this… but I was fairly restrained as I had the window above that it had to work with, and I didn't want it to end up too hard and crazy!
I then covered one side of the board with layers and layers of foam batting and stapled it in place. I did three layers, and if I had more I definitely would have used it – I don't think you can ever have too much batting on here! Make sure you pull the batting tightly around all the corners so it doesn't bulk up and look funny.
I then did the same with my fabric, stretching it out, and stapling it tightly. The curves were the tricky part (it's all in the triangular cutting of the fabric!) and I soon had it down pat.
Lastly to finish off the look, I hammered in some nail-head trim very carefully along the wooden edge. I really didn't fancy nailing in hundreds of individual tacks, so it was good I only had to do every 10.
From the front…
From the side…
But how did you attach it to the wall?!
Weeeelll this was another fun part… I had to get my husband and my Dad over to use physics (and nails, a drill, rulers and angles) to make holes in our wall (don't worry it was a structural beam!) so it would use its weight to slot into the wall and hang there nicely. What we didn't want was it to fall off while we were sleeping so this had to be done by the experts!
The MDF was actually jolly heavy (hard for one person to lift) so I stood back and let the guys figure it out. In fact all I really did was nitpicked when the dang thing wasn't straight on the wall!
And it's done!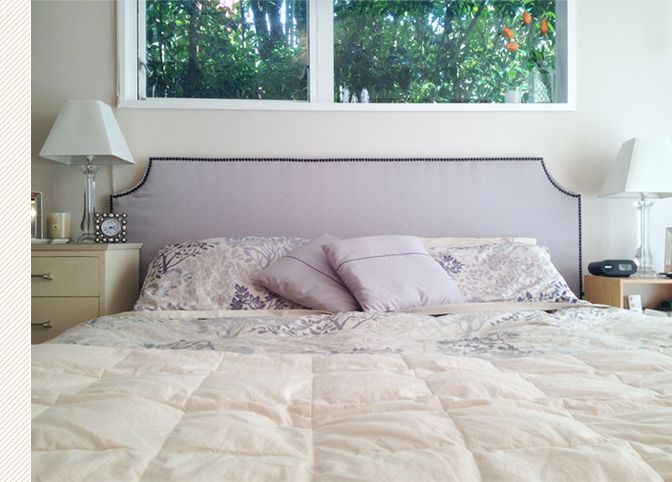 I am so so super stoked with the result of this project! All up this cost about $100 for all the materials, so it was much cheaper then forking out for something not so custom! Now I can sleep peacefully under my lovely headboard that will definitely not fall off whilst am asleep!
Has anyone attempted their own bedhead? I've also heard you can upholster your own bed à la Jonathan Adler.. whose tempted?!