Our kitchen at present is a mixture of 1970s farmhouse meets failed modern.
You can tell that it is the original kitchen left til last to tackle in our modernized home – the amount of rimu wood that has been used is way up there, and the maroon bench tops are clearly not something that I would pick! However, it has lovely sunshine in the morning, a great layout, oodles of space and a large pantry that you can fit a whole person inside (including all your kitchen knick-naks to channel your inner domestic goddess!)

Photo credit goes to our real estate company Harcourts, back in 2012.
Since we moved in nearly two years ago, we have replaced the old dishwasher (it was the first to go after less than a month's use!) splashed out on a gleaming new oven and cook top, and replaced the sink tap. Gone are the white appliances, and they have been replaced with shiny new silver ones. I've been itching to get my hands on the rest ever since.
This is when I get the sensible voice of my husbands' in my ear, and I somewhat agree. There is no point in fully gutting and replacing this kitchen of ours if we intend on keeping this place as a rental eventually when we move on. As you may well be aware, kitchens are the most expensive to remodel in a home, and budgets can get blown very quickly! So, we have compromised, and have sussed out what we are keen to do as a 'mid-fix' if you will – considering there is actually nothing wrong with the kitchen itself – it's just plainly not my style.
What we're thinking
Remove the rimu cabinetry and sell it to someone who can put it to good use!
Install new cabinetry (white?)
Replace the bench top with something more subtle (Marble? Neutral and flecky?)
Install splash-back with lively wallpaper behind it (if the budget permits, maybe subway tiles?)
Fix the lighting in the ceiling (set in lights and perhaps some pendants?)
Paint the walls to match
New kitchen inspiration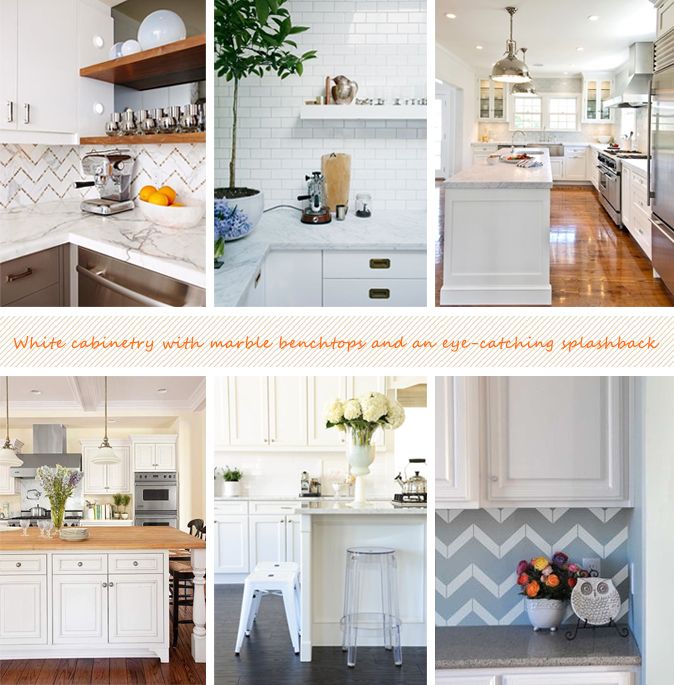 I did think about painting over our rimu wood, but since it's actually quite valuable (and I nearly gave my Dad a hernia when mentioning it) it seems to be a better idea to sell it to recoup some of the kitchen costs. I've pretty much settled on the splash-back wallpaper, and next on the agenda is getting quotes for the cabinetry.
Exciting plans afoot then! Has anyone painted over their wooden kitchen cabinets or have a cabinet maker they can recommend to me? I can't wait to get started! I love to cook so this is just going to add to the baking projects I post on here… everyone wins!