So it was 3pm on a Sunday the other weekend and I decided then and there it was time to paint the entry-way bannisters. Cue a sigh and a reeeeeallly right now face from my husband, but I managed to convince him somehow, and so we picked up and popped down to our local Resene to pick up some charcoal/graphite coloured paint.
You may remember our white bannisters, no? They feature here where I talk about how i'm going to redo my entryway. I'm the one complaining about how everything's too white and boring!
The blah bannisters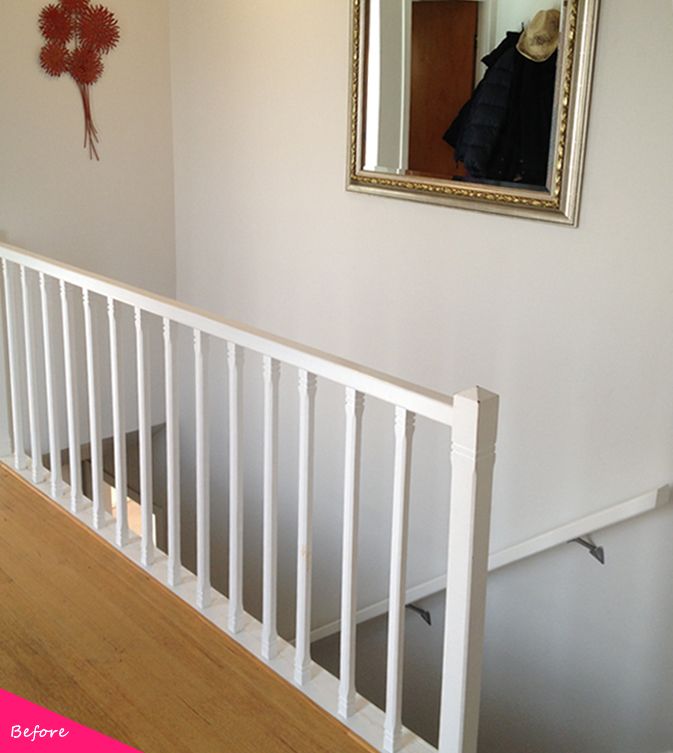 A snore-fest indeed!
I'm not one usually for buying test-pots (why try before you buy when you can just get into the painting faster?!) and so I decided on a shade of nearly-black – Resene Lustacryl in 'Ultra-Deep.'  I was back home and ready to paint before 3.30pm! Not too shabby!
I thought about sanding the bannisters down but they were in quite good condition so I skipped this step. My walls are a definite shade of white, so I made sure I taped up the wooden floor edges and put down some drop-cloths on the floor and walls as usual.
One coat later and I was feeling great about my instincts to choose to paint these in a much darker shade. There is just so much white going on in this area, and the black really will tie in my painted hall table, and all three will look great with the wallpaper I purchased for the feature wall (it's going to be where the red art is – a big reveal post coming soon!) Exciting!
Coat one down!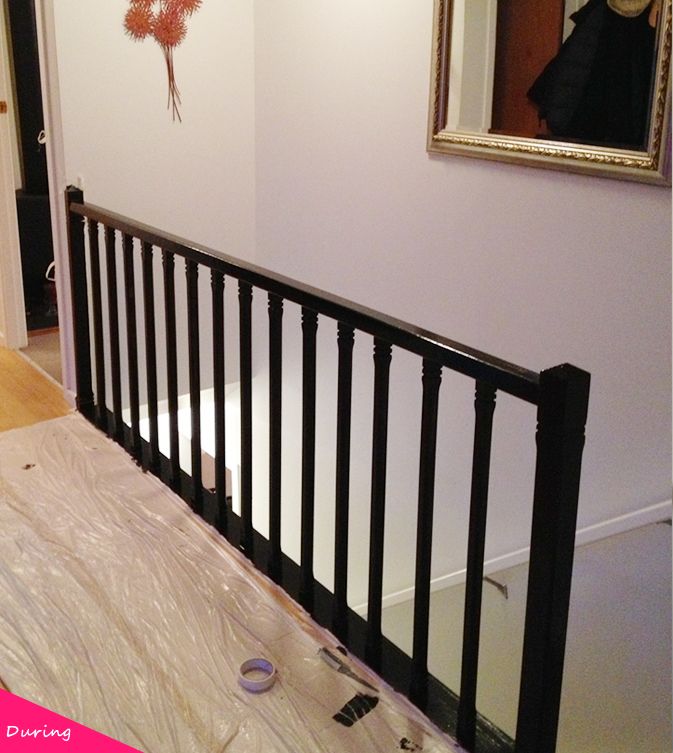 Second coat down, and the bannisters were looking amazing. I finished off the railing on the wall down the stairs the next afternoon which completed the look.
Top coat done
S'cuse the shadows and exposure.. it does that when you take photos at night!
I really like the black and white. It looks modern yet also classic, and somehow really does add a certain dimension to the area.
So all in all, an easy and really cheap project which adds much more to the entry space. I only managed to get three splodges of black paint on the carpet which am not terribly impressed about… maybe this weekend i'll have to investigate carpet cleaners…