"Dahlia-like pom poms appear to float in the air, imparting a cheerful radiance to a rehearsal dinner, bridal shower, or casual reception." – Martha Stewart Weddings.
When planning my wedding, one of the first things I fell in love with in terms of decoration were these dahlia-like pom-poms made of tissue paper: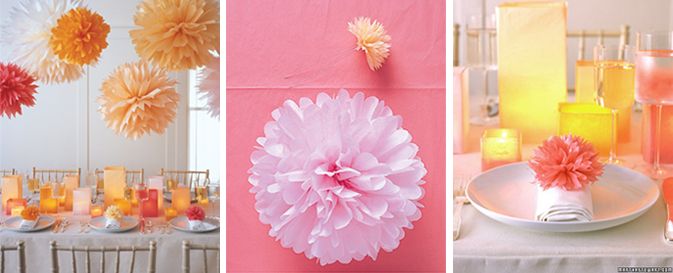 Amazing! So simple yet effective! These would be perfect for a wedding, baby shower, or anything needing some decoration.
They didn't look too hard to make, and only required purchasing a few supplies, so I decided this project was a great idea for table decoration that would keep to my wedding budget. Looking around the web, I found that you could actually purchase these pom poms 'ready made' by Martha Stewart herself, but these were pretty expensive when you needed large amounts, and they came flat!
I rounded up my lady-friends
We set about the task of making 80 of these bad boys. Yes, you read that correctly, EIGHTY. Using theinstructions from Martha, and also another more detailed website, we got these down to a fine art and spent many (many) evenings with scissors, tissue paper and twine. We discovered the inclusion of wine didn't really help in these crafty evenings, but it did mentally!
Our hard work paid off
On our Wedding day we had 80 stunning pom poms to decorate the tables (10 on each table) in pale pink, hot pink, white and orange. We even had a tally to make sure we had an even amount of colours for each table! I am proud to say that was probably my only Bridezilla tendency (although if you asked my Maid of Honour she may say otherwise!)
They looked truly awesome, and we got some pretty cool reactions from guests, in fact many asked if they could take one home! The pop of colour really worked against the crisp white tablecloths, and with the soft candlelight and fairy lights they looked mesmerising.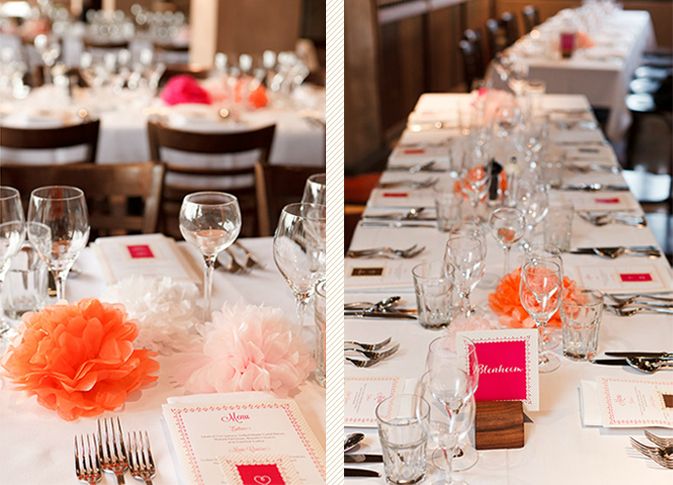 After our big day, we packed the remaining pom poms up and brought them back to Wellington. They are now sitting in boxes in storage… I can't bring myself to throw these out after all those long hours!
But alas, there have been some casualties. My not so kitten-ish anymore kitten Pixie did manage to find one box filled with these at the back of a wardrobe, and now uses it for napping. She did look fairly guilty when I discovered her atop the squished pom poms!
Special thanks for Jessica & Paul Jones for the stunning photography above.